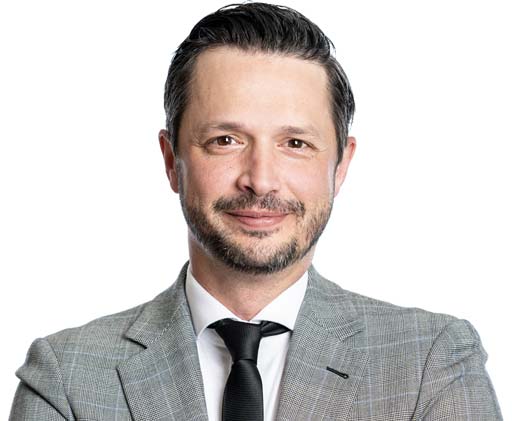 Phone : 819 481-0324
Fax : 819 481-0337

[email protected]
Dominique Gilbert
Lawyer
Dominique Gilbert has been a partner at Dunton Rainville since 2019. He and his partners manage the Sherbrooke office.
Me. Gilbert has been a member of the Bar since 2003. He holds a Bachelor of Law from the Université de Sherbrooke.
He began his career with the firm of Bernard Roy (Justice Quebec), representing the Attorney General of Quebec in the areas of administrative and constitutional law. During his six years as a member of this team, he pleaded before all levels of Quebec's courts, from the Administrative Tribunal of Quebec to the Courts of Appeal. He has also been called upon to represent the Government of Quebec before the Federal Court and the Federal Court of Appeal. He has also participated in numerous negotiations involving various Aboriginal bands in Quebec, the federal government and the provincial government.  
In 2008, Me. Gilbert joined a national law firm, using his litigation experience to practice in civil and commercial litigation. He has also represented several joint stock companies, as well as several liability insurance funds and financial institutions.
From 2008 to 2014, he practiced in a national firm, before moving to a firm that is present throughout Quebec. Since 2014, Me. Gilbert has expanded his commercial law expertise to include transactional law, although he continues to represent his clients before all levels of court in Quebec and elsewhere. 
In 2017, he opened a boutique commercial law firm with his partner, Me Andrée-Anne Ouimette. Their firm merged with Dunton Rainville at the end of 2019. 
Me. Gilbert is involved with the Faculty of Law of the Université de Sherbrooke, where he has been teaching for more than 10 years as part of the Laskin Pan-Canadian Moot Court Competition, which focuses on administrative and constitutional law. 
Areas of expertise:
Civil litigation

Commercial litigation

Tax litigation

Transactional law (mergers and acquisitions)

Construction law

Real estate law

Administrative law

Constitutional law
Admission to the Bar
Education
Bachelor of Law,

Université de Sherbrooke
Professional activities and association
Lecturer at the Laskin Pan-Canadian Advocacy Competition (administrative and constitutional law), Université de Sherbrooke