Diversity and inclusion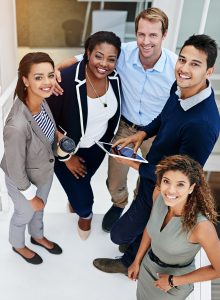 Diversity and inclusion are Quebec society values shared by Dunton Rainville. Throughout its 65-year history, Dunton Rainville has always provided its employees with a welcoming and stimulating work environment that is conducive to personal and professional growth.
At Dunton Rainville, every individual's contribution to the firm's growth and success is unique and recognized, regardless of ethnic or cultural origin, gender, religion, creed, marital status, disability, age or sexual orientation.
The chances of recruitment and advancement at the firm are equal for all. The firm believes that diversity and inclusion enrich the organization with the varied experiences and diverse and innovative perspectives on the world that have become essential to any expansion strategy.
It is through this openness that we can access a broader pool of exceptional talent that will help us achieve our business objectives while ensuring the retention of our human capital.
This approach, based on respect for every individual, guides the actions of all members of the firm on a daily basis and in the interests of all.