Appointment of Me Yanick Tanguay as Vice Chairman of Dunton Rainville's Executive Board
April 10th 2019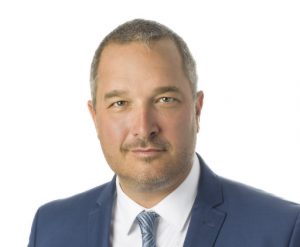 The law and notarial firm of Dunton Rainville is proud to announce the appointment of Me Yanick Tanguay as Vice Chairman of its Executive Board.
During a recent Board meeting, the firm's partners took the opportunity to formalize Me Tanguay's appointment to this important position. Me Tanguay began his legal career in a regional law firm after being called to the Quebec Bar in 1995. He joined Dunton Rainville in 1997 and became a partner in the firm in 2003. His in-depth knowledge of Dunton Rainville's operating methods and entrepreneurial culture, his leadership, his listening skills and his understanding of the issues facing the legal community are assets that impelled his appointment by the Board.
"We are delighted with the new role that Me Tanguay will now play within the Executive Board because this year, our firm took another step toward optimizing our operations and developing our business," affirmed Me Jean-Jacques Rainville, Chairman of the Board. "Dunton Rainville will celebrate its 65th anniversary in 2019 and we are committed to continuing to grow and to maintaining our position as one of the largest firms in Quebec. Me Tanguay will become an important player in this transformation," concluded Me Rainville.
Me Tanguay says he is honoured by the trust placed in him by his partners. "I intend to do my utmost to carry out my new duties with rigour and determination. I am excited to contribute to the evolution of our firm," he said. "I also wish to embody the entrepreneurial spirit, agility and creativity that characterize and distinguish our firm, as well as the values of integrity, solidarity and dedication to our clients," added the Vice Chairman. Me Tanguay practices mainly in municipal law, labour and employment law and administrative law.
In addition to Me Rainville and Me Tanguay, Me Paul-André Martel, Me Guy Bisaillon and Me Aaron Z. Makovka are also members of the Executive Board. Me Martel is also responsible for banking matters and has provided the Board with his extensive expertise for many years. In this capacity, he has made a significant contribution to the firm's expansion. Me Bisaillon is responsible for the Joliette office and Me Makovka acts as liaison with SCG Legal, of which Dunton Rainville is a member.
"It is thanks to this large team and to the efforts of all members of the firm that we will continue to ensure the sustainability of our organization. I am extremely grateful to them for this," concluded Me Rainville.
Dunton Rainville, L.L.P. is a firm composed of more than 200 individuals, including more than 100 lawyers, notaries and labour relations advisors, working in our offices in Montreal, Laval, Longueuil, Joliette and Saint-Jérôme. Our professionals possess cutting-edge expertise and the firm acts in all areas requiring legal services, particularly in commercial, banking and real estate matters, labour, employment and immigration law, public, municipal, education and health law, as well as in civil law, insurance, construction and family law. Dunton Rainville is a member of the SCG Legal worldwide network of leading law firms.
– 30 –
For more information, please contact:
Me Jean-Jacques Rainville
Dunton Rainville S.E.N.C.R.L.
(514) 866-6743
[email protected]